Preamble: This article is the result of joint work by Capucine Ortoli as part of the support provided to Engie.
It seems fair to me to point out that we have carried out this work within the framework of Toscane Accompagnement  and in the USA Toscane regenerates US with the support of many actors and contributors. It goes without saying that Engie employees are the first hummingbirds of their own transformation! 
How the Gobal Energy Management (GEM) Business Unit – made up of more or less 1800 people within ENGIE and distributed mainly between Paris, Rome, Brussels, Singapore and activities in 40 countries – has transformed itself from a shared vision and has built a new governance project designed collectively for the benefit of accountability, trust,  human dignity and company performance.
What is told here is only our own perception, it is certain that crossing the eyes, listening, exchanging with the actors of the field and those who live these changes would be just as fair as reading this.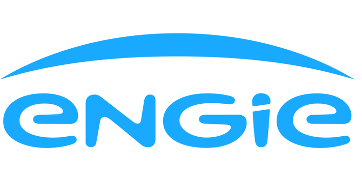 The CEO's Calling dynamic
When we asked Édouard about his deep motivation for a gem transformation, he shared with us that the pleasure of coming to work is one of his core values in his life:  "A recent internal survey taught us that our employees love the content of their work, but do not enjoy coming to work. We spend a lot of our time at work, everything is not always easy, we interact a lot with each other, so it takes envy. It would be a shame otherwise. I dream that everyone will stand up with a smile and say, I'm going to work at GEM."  Then, after the first meeting with his TOP managers, this motivation was completed by  "I do not want any more suffering in GEM, at home, I absolutely do not want us to get up in the morning to come and suffer at work".
This dynamic of the call was expressed during the first meetings with gem's Top Managers, during the start of the co-construction of the  vision, then called "dream".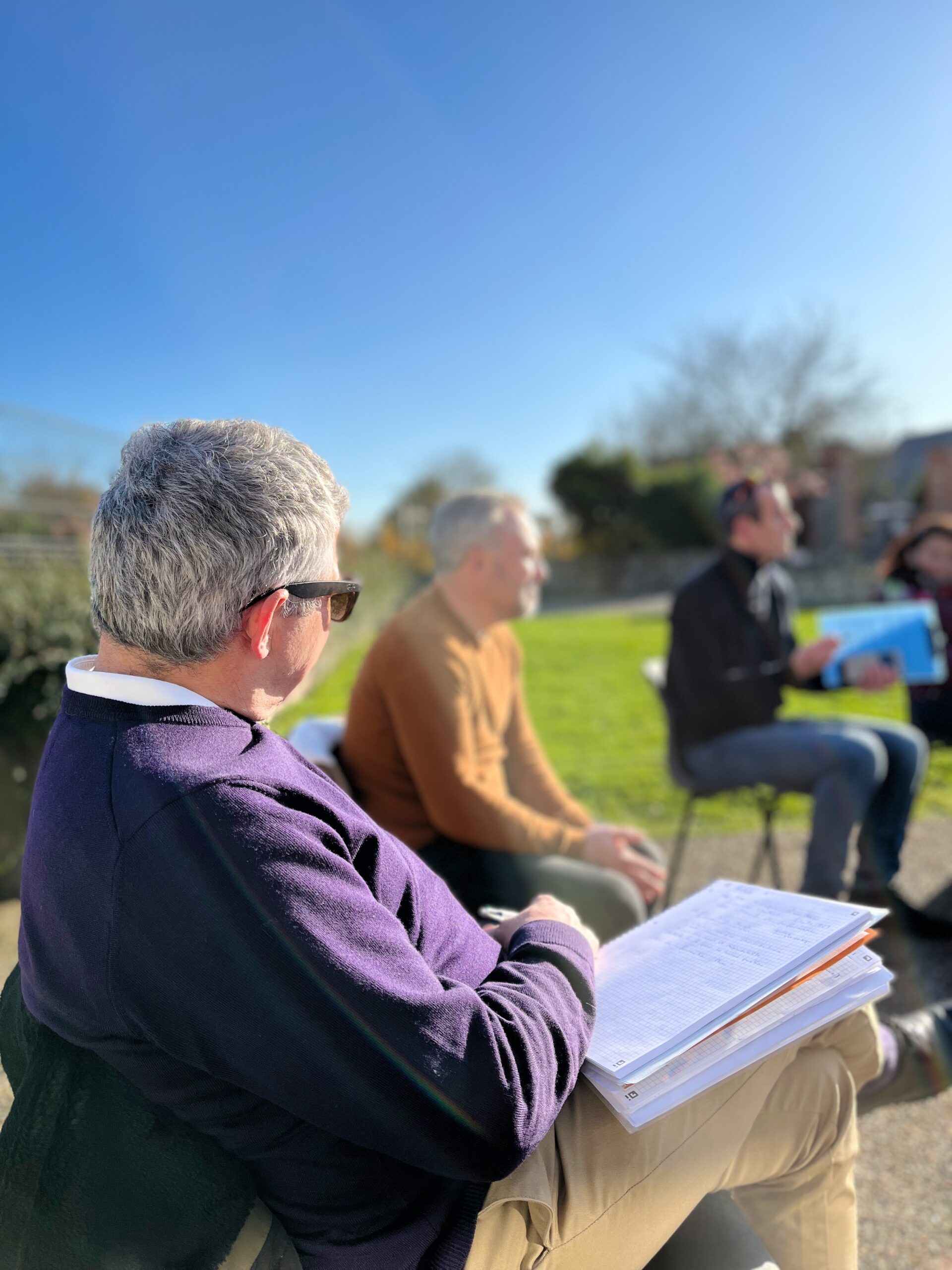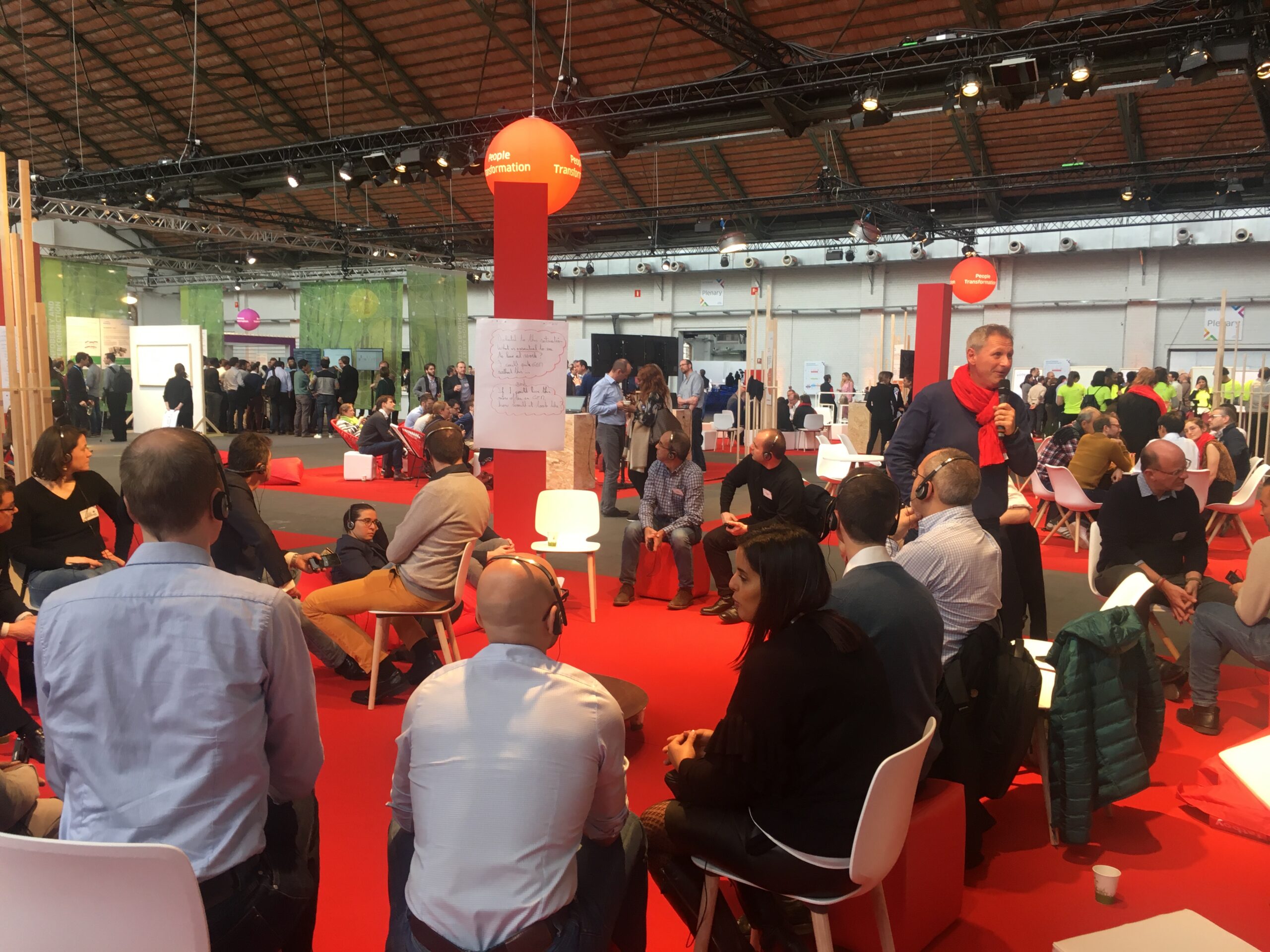 The collective shared vision
An adventure in two stages: Autumn 2017
First, in October 2017, a project was launched to implement a "new dream" for GEM. During dedicated internal events, (Top50 and Top 200) Édouard  called on   volunteers to shape a "common dream". A dozen people mobilized. It was the first time that in a culture of engineers was proposed a walk in the future to imagine reinventing the company: this small group was called the "dream catchers".
The CEO insisted on keeping the word "dream" whereas in this type of Cartesian corporate culture, we do not dream, we talk about business.
This first group stopped after a few months because they could not find a way to operate and have a satisfactory impact.
The proposals made by the dream wrestlers to their own teams have received a disappointing and almost frustrating reception for them compared to the enthusiasm and motivation aroused: "there is nothing business in   there", "thisis not what will give us the means to be better".
A certain disconnect with culture and vision expectations was present….
Second time: end  of 2017
The head of strategy then revived this momentum through an initiative called "The Why Business". Why does this business and its strategic components exist? What is its raison d'être? What are its main components and why?  You should know that until then, the different departments of the BU thought of themselves as business independent of eachother.
This reflection, which began on November 17 and was finalized in January 18, was the renewal of the Vision project, this time engaging the Extended Management Committee (about twenty people) and a Shadow Group of similar size who were each working on their own at the beginning, with a final pooling, to broaden the perspectives on the basis of 3 main axes of work to set a framework for the vision. :
Major trends/context,

Disruptions according to GEM's capabilities and potentials

the wills and  ambitions for change
 The constitution of this shared vision (early March 2018) and co-built by nearly  300 people, during a dedicated event was followed by appropriation sessions (nearly 20 one-day sessions with 15 to 60 people in 8 countries over 5 months) and adaptation sessions at the level of local teams:3,0,00people were solicited.
During these appropriation sessions according to needs and availability, teams had the opportunity to:
Appropriate the vision built collectively through questions asked to the management teams present and to the people who participated in the co-construction,

To suggest changes in the substance of the overall vision of the department,

To adapt a "local" vision for themselves if the need arose in order to make it a management tool (not a manager'stool),

To discuss the impacts of vision on their daily lives ("whatdoI want to stop, to start, that goes in the direction of vision or not?")

 

.
Following this campaign of appropriation of the vision which lasted 6 months more or less, a day of finalization of the vision is organized in October.
What we observed
As the vision workshops progressed, we saw and felt the cultural change. The audience of these workshops was never the same and yet we could feel the turn towards a culture of listening, more human. (Level of listening and attention, ability to let go more or less quickly). It is the fruit of both the schools of leadership and all the field support. Viral change was gaining momentum in the organization.
In parallel with this field approach with the vision, work with the Management Committee has been set up to free speech, to live a more collaborative, more open management committee.
The Executive Committee evolves its own role
Several sessions were necessary to accompany the Global Energy Management Management Management's raison d'être, which led them to revisit their collective raison d'être.  Theywent from both a place and a group in which "they were annoyed and it pissed me off togo"  to a place, a space, a working group that has a meaning "to  be at the service of the organization, its major decisions and its transformation"  and a desire for collective transformation.
At that time, a survey to gather the opinions of the teams on the Management Committee (its position, its usefulness, its positioning) had been set up and had made it possible to make the entire "Management Committee" group responsible.  We  have seen the group move from a sense of collective responsibility to more individual responsibility, a form of "devictimization" and taking back control of everyone's freedom and initiative without hiding behind the collective.
The sessions of the Management Committee took place over several months as follows overall:
Release of words and try to clean relationships as much as possible.
Ritual of inclusion and declusion.
Sharing of feelings on operationalsituations.
Release the big and small pebbles, the irritants of each and thegroup.
Increased letting go of certain decisions toteams.
Coming of some volunteers in the CoDir of aday.
Extension of the meetings to two days with 50 volunteers to make progress points on the transformation = > gradually turned into an exchange on the common intentions to evolve theorganization.
Common vision at the service of theorganization.
Moving from "being right" and "knowing" to listening to the intention, accepting points of view.
This has taken shape as the Board of Directors meetings have become equally transformative, by their content and way of life and by the individual transformation of each.
The Management Committee time and space of meetings has become the framework that transforms the company, while being a place that is also transformed.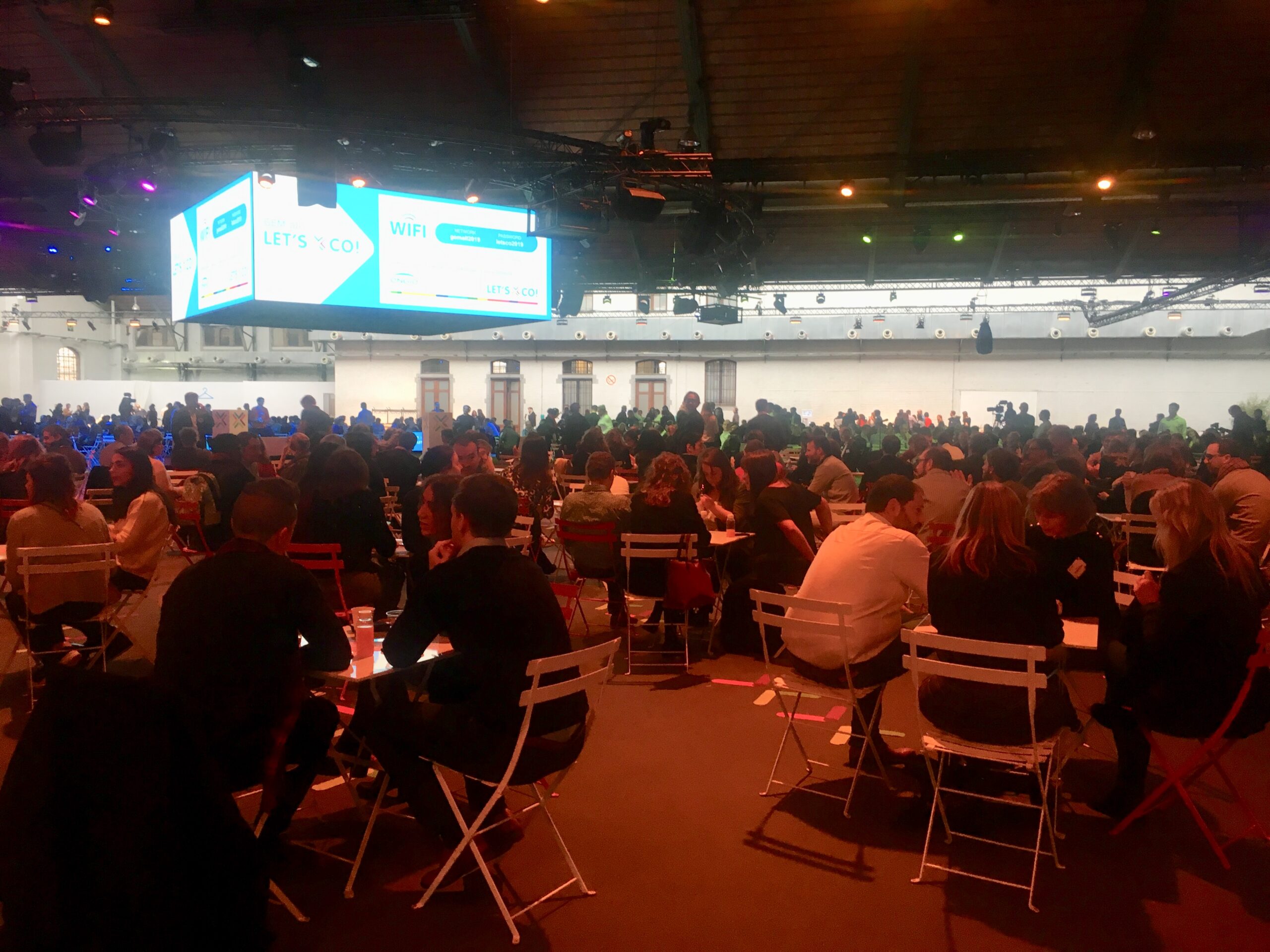 A working group sets up a new governance
A desire to set to music the vision in the reality of the company already existed,  both on the part of the CEO,as wellas  the teams, especially the teams that had already been transformed either by holacracy or through the agile mode.
As a result of this work at the level of the steering committee, a"green" meeting was held extended to 80 volunteers duringwhichthe  collective decision by consent was taken to set up voluntary working groups that would work on the reorganization and the new governance to make the vision real.
Edouard gave permission and a planning suggestion in front of all those present for volunteers to propose different approaches/options. He set a framework of freedom and responsibility for the teams that move forward together on this subject, with a schedule of meetings of exchanges and decision-making.
Edouard and the Executive Committee expressed at that time that they were open to all volunteers. They also insisted on  welcoming any governance proposal and all ways of working: whether from implemented examples or from theoretical models. Everything would be discussed on the basis of an exchange of feelings. The most sustained proposal would be    tested. However, the DG retains a right of final decision or veto if necessary.
What we observed
In general, the CEO is asked to write a framework for action, which can be said and done or not. Here, over the course of the exchanges, the steering committee and the volunteers present proposed that this framework for action be defined by the working group itself. Again, we argued that every place, every space, every transformation action at GEM is a transformative place.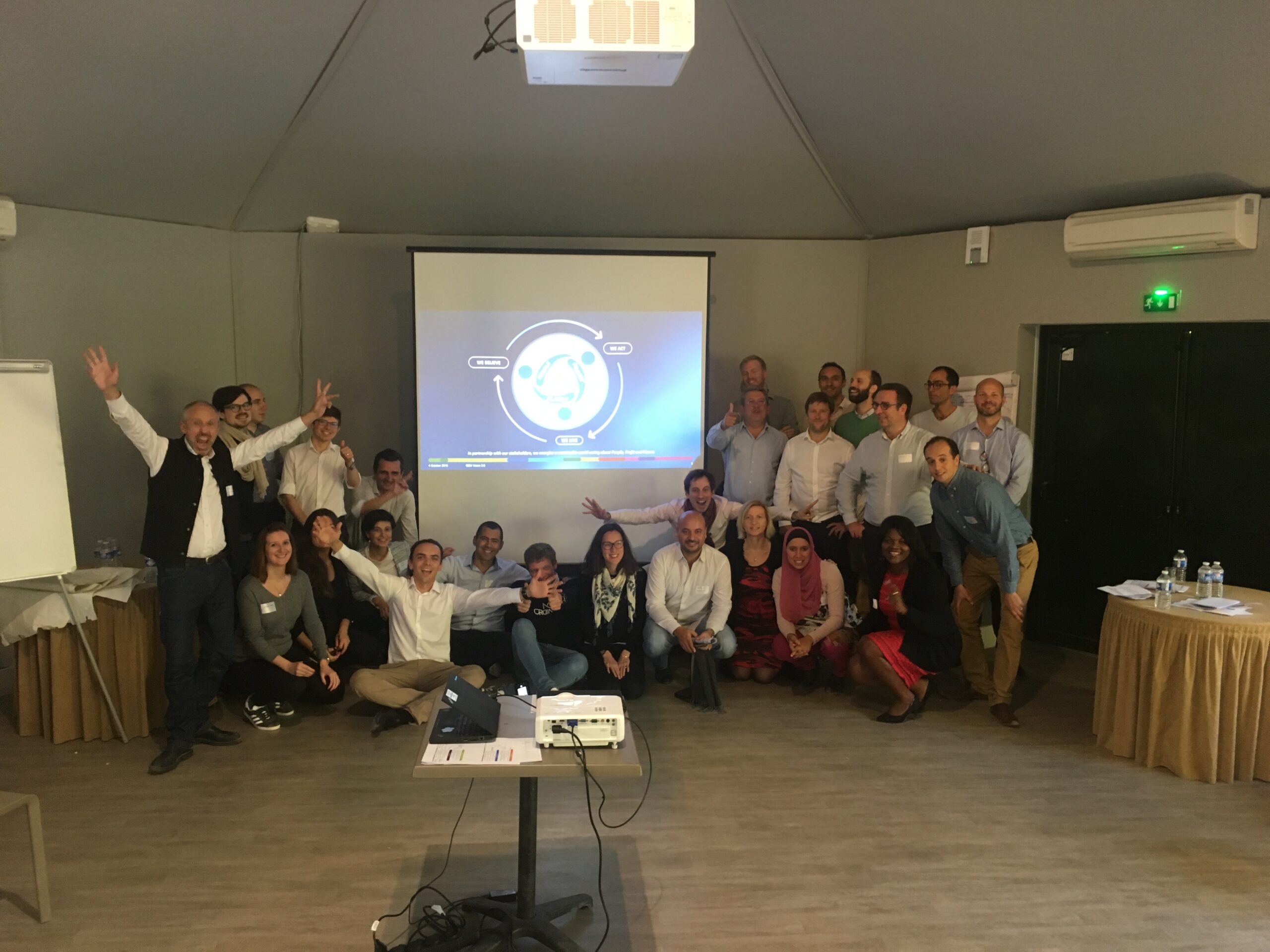 Taking care of all stakeholders
 As the workshops of practice, collective decision-making, implementation of new processes, management committees and leadership schools, individual accompaniments, resistance came back to us: areas of the organization did not participate in any transformation work and "we said", we felt that they excluded themselves from the transformation. We have organized moments of listening and sharing by inviting these people in a personal and discreet way… without forcing anything.
These moments of listening to their difficulties in contributing to the transformation, their fears of seeing "a single thought"  of how to work be put in place, their feeling of exclusion, highlighted key elements to avoid headwinds. Two small groups of traders, back office and front office, were brought together for moments of listening.
Without convincing, without pushing for change, the common intentions of each other and the right to speak, the right to different opinion were shared between us.
In the same way as in the operational teams during the Leadership Schools, the Management Committee has gradually freed itself from its fears, from its unspoken. Gradually, this group was accompanied to take care of themselves by and for themselves.
However, when the intention of participatory reorganization, including the scope of the codir, was manifested, the tension wasfelt.  This gave rise to a very touching moment: when the members of the codir discovered the intervision issues that we had prepared  for them, to prepare for this reorganization. They said "phew, it's tough!" and they all played the intervision game between them, in groups of 3 or 4,  each made several intervisions.
Without my title, my function, who am I?
What is the meaning of my position for me in the transformation?
What would I lose if I no longer had my title and no longer had this function?
What does power mean to me?
What drives me right now? What drives me professionally and in which I could project myselfinto the future?
What is at stake for me as a member of the Co DIr in the transformation?
We had decided together a why / raison d'être for our Executive Committee "to be at the service of transformation" what does it mean for  me?  
During this project, some teams have worked on elements of an agile organization, others are working on a completely organic living organization and still others are drawing a governance close to that of Spotify per squad.
The working groups have had this experience with ups and downs. It is far from being a pre-established and fixed process – even if demanding and planned – it is a living and authentic process. We were fascinated and admired to see the honesty of the exchanges, the reception of different points of view and the listening that exist in these workshops. These bring together members of management committees and volunteer employees from all sides in a real desire to share, to pay attention to the needs and desires of each for a new living together.
Many other elements could be covered here: the new HR processes (remuneration and reassessment of bonuses in transparency, collective recruitment by the operational teams themselves, support for people, choice of managers by the teams themselves as in Italy, launch of project teams in self-organization, open innovation)
We have worked and lived in many different companies and many different corporate cultures, we have been infinitely touched humanly to see how bringing self-awareness and authenticity makes the company a respectful and efficient place. We will not fail to report that during this period the organization has been extremely efficient, exceeding its forecasts  – even if other (cyclical) factors can be invoke